With IPHost Network Monitor you can monitor availability or performance for any web server, website or web application.
HTTP monitor can check any URL you provide, this internet/intranet monitor supports secure connections using SSL (HTTPS), can perform POST requests. All types of proxy servers are supported so you can monitor hosts via proxy if it is required. Several authentication methods are supported including Basic and NTLM (Windows Integrated) authentication that is critical for monitoring a large number of web sites and web applications. For more in-depth checks you can use content validation, IPHost Network Monitor searches for a string in downloaded content and you can choose should the content match the string or not.
Simple Web site monitoring
You can also do performance monitoring of your critical web and intranet applications. IPHost Network Monitor collects page response time and you can set two performance problems levels and corresponding actions/notifications for them. Performance Warning level usually tells you that some performance problems appear, Performance Alert level you should use to signalize about more severe performance problems that should be resolved immediately.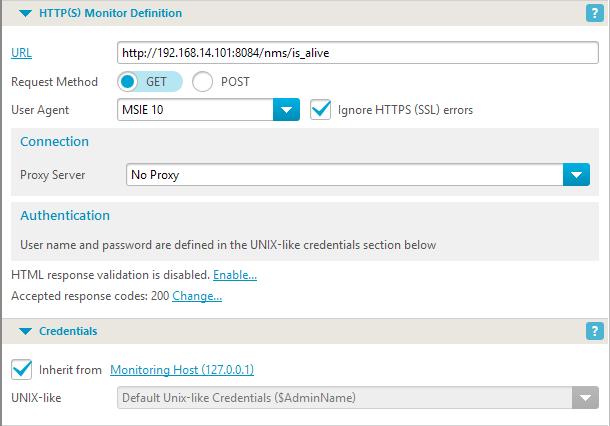 In conjunction with PING or similar monitor, the above is enough to make sure a Web site page is loaded and contains whatever text you expect.
Advanced Web site monitoring
A Web site nowadays is a complex entity, its normal operation depends on how a number of other services interact. To get more detailed information on a site's health, one should use a number of monitors, below is a typical use case.
Note the general rule: always use the most simple monitors wherever possible, since monitors are expected to watch site health, not to clog it with frequent requests.

Free 30-day trial version of IPHost Network Monitor is available. During your trial you can get support by e-mail, please use contact form to send all your inquiries on IPHost Network Monitor features and purchase.
| | | |
| --- | --- | --- |
| | | |
| Windows Interface Screenshot | | Web Interface Screenshot |
Download the free trial of IPHost Network Monitor and start to monitor your network and vital applications in a few minutes.
IPHost Network Monitor 5.4 build 14538 of April 21, 2023. File size: 111MB
Related Topics:
Software application monitoring
SOA monitoring
WebSphere monitoring
Education institutions' networks monitoring
Webserver monitoring